Brief Biography:
Ayatullah Sayyid Mirza Ali Tabatabai, famously known as Qazi (1282 - 1366 AH) was born in Tabriz in Iran. He completed his basic seminary studies in his hometown, and then at the age of 28, migrated to Najaf (Iraq) to learn from the great masters who taught him in the shadow of the holy shrine of Imam Ali (A.S.).
In time, Sayyid Qazi excelled in jurisprudence, usul, hadith,

exegesis

and ethics and distinguished himself as one of the most sought-after instructors in Najaf, especially in the fields of ethics and Mysticism. He wrote several books, including a partially completed

exegesis

of the Glorious Qur'an, which is a commentary up to verse 91 of Chapter al-An'am. Several of the top ranking scholars of the recent generation were his students, including:
Shaykh Muhammad Taqi Amuli
Ayatollah Sayyed Muhammad Hussein Tabatabee
Ayatollah Muhammad Taqi Bahjat
Ayatollah Sayyed Abbas Kashani
Ayatollah Sayyed Abdulkarim Kashmiri
Ayatollah Ali Akbar Marandi
Ayatollah Sayyed Hassan Mustafavi Tabrizi
Ayatollah Sayyed Abdulhossein Dastgheyb
Ayatollah Ali Muhammad Broujerdi
Ayatollah Nejabat Shirazi
Ayatollah Sayyed Muhammad Hosseini Hamedani
Ayatollah Sayyed Hassan Masqati
Ayatollah Sayyed Hashim Razavi Kashmiri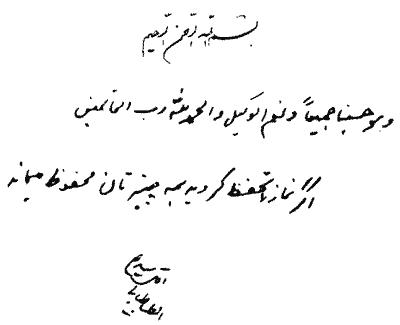 A sample of his handwriting that says:
If you preserve your prayers, everything in your life will be preserved.
His teachers in Spiritualism were

Ayatollah Sayyed

Ahmed Karbalai and Sheikh Mohammad Bahari, who in turn were the students of Mirza Mulla Hussein Qulli Hamadani. Mulla Qulli was himself the student of Haj Sayyed Ali Shustari.
Late Qazi was a scholar of the highest calibre in Najaf in the last century. He taught Ethics, Creeds and Mysticism, and was also well versed in Philosophy and Jurisprudence. Many great scholars of the recent generation were his students. He had a special status and piety, which enabled him to perform many miraculous acts.
After many years of teaching and worshiping God, Mirza Ali Aqa Qazi passed away in 1947 on Monday and was buried in
Wadi-us-Salaam
(a great famous cemetery in Najaf) next to his father's grave. He aged 83 years and two months and 21 days.